Terraizer - 2017 Polaris RZR XP® 4 Turbo EPS Titanium Matte Metallic
This 4-seater may look average but she's customized to the extreme to raise a little hell!
Ready for an Extreme Ride?
Feel like you're ready for the ultimate back-country tour… Terraizer is as extreme as you can get. Our fully custom 2017 Polaris RZR XP® 4 Turbo started as the top-of-the-line Polaris machine, and then we took it to the extreme!
Terraizer is a custom build bad-ass 2017 Polaris RZR XP® 4 Turbo, she has been modified to the extreme with 4″ portal lift with 35″ tires and 24″ ground clearance and built with the best aftermarket parts available for your Ultimate Adventure. Terraizer has been outfitted from top to bottom with today's top aftermarket accessories for one purpose and one purpose alone, to be the most bad-ass Polaris RZR XP® 4 Turbo in the entire Okanagan.
This extreme machine is only piloted by our top tour guide and owner Q-Man. With this tour you will be able to experience the best and most extreme off-road experience as a passenger and be taken on an adventure of a lifetime.
Terraizer is build for the most off-road extreme UTV Adventures you maybe looking for.
Please call to discuss pricing and options for this one of a kind custom Polaris RZR XP® 4 Turbo.
Pricing for Terraizer - 2017 RZR XP® 4 Turbo EPS Titanium Matte Metallic
Ultimate Ride | Private Expert Driver 
Get ready for an exciting UTV Thrill Ride experience! Climb on board with expert UTV driver Q-Man in our custom 2017 Polaris RZR XP® 4 Turbo as we set out along the off-road trails.  Your tour will begin with an incredible ride over changing terrain and views of the Okanagan Valley and Lake as we embark through the forest trails!  Your driver will take you for an exciting and heart pounding ride and give you a taste of what Full Cyrcle Adventures has to offer.  You may be a first timer and are not ready to drive our own UTV but want to experience the thrill ride as a passenger, or maybe you want an extreme adventure.  We can assure you this experience is something won't soon forget!  
Remember that this is a private/exclusive tour just for you, so the pace is yours. Take full advantage of the custom experience! Don't forget your cameras.
Our
2017 Polaris RZR XP® 4 Turbo 
will seat up to 3 passengers.
Experience Extreme UTV Adventure as a Passenger with an Expert Driver
Call For Pricing
Price includes: Helmets, Fuel, Snacks, And Expert Driver.
BUILD YOUR OWN ADVENTURE
No matter your off-road passion or personality, we will build a custom UTV adventure tour designed for you and your group.
Learn more about a stock 2017 RZR XP® 4 Turbo EPS Titanium Matte Metallic
Here's what Terraizer was born with, before we took her to the extreme:
RZR XP® 4 Turbo EPS Titanium Matte Metallic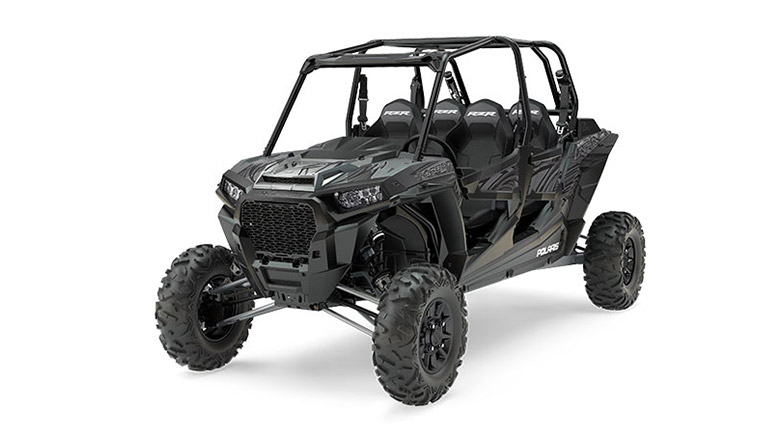 Engine & Drivetrain
Cylinders Displacement
925cc
Drive System Type
High Performance True On-Demand AWD/2WD
Engine Braking System (EBS)
Not Equipped
Engine Type
ProStar Turbo H.O.; 4-Stroke DOHC Twin Cylinder Turbocharged
Fuel System/Battery
Electronic Fuel Injection
Transmission/Final Drive
Automatic PVT P/R/N/L/H
Dimensions
Bed Box Dimensions (L x W x H)
28 x 22 x 7 in (72.0 x 57.0 x 17.8 cm)
Box Capacity
300 lb (136.1 kg)
Estimated Dry Weight
1,691 lb (767 kg)
Fuel Capacity
9.5 gal (35.9 L)
Ground Clearance
13.5 in (34.3 cm)
Overall Vehicle Size (L x W x H)
146 x 64 x 73.75 in (370.8 x 162.6 x 187.3 cm)
Payload Capacity
900 lb (408 kg)
Wheelbase
117 in (297.2 cm)
Brakes
Front/Rear Brakes
4-Wheel Hydraulic Disc with Triple-Bore Front and Dual-Bore Rear Calipers
Parking Brake
Park In-Transmission
Additional Specifications
Electronic Power Steering: Standard
Front Shocks:
2.5 in FOX Podium Internal Bypass Shocks with 24-Position Adjustable Clickers
Front Suspension:
Dual A-Arm with Stabilizer Bar and 16 in (40.6 cm) Travel
Ingress / Egress
Bowed 1/4 Doors
Instrumentation:
New Digital Gauge, Speedometer, Odometer, Tripmeter, Tachometer, Coolant Temperature, Volt Meter, Hour Meter, Service Indicator, Clock, Gear Indicator, Fuel Gauge, Hi-Temp Light, Seatbelt Reminder Light, 2 DC Outlets (front and rear)
Lighting:
White LED, Low/High, Red LED Tail/Brake Lights
Rear Shocks:
3″ FOX Podium Internal Bypass Shocks with 24-Position Adjustable Clickers (Remote Reservoir)
Rear Suspension:
Trailing Arm with Stabilizer Bar and 18 in (45.7 cm) Travel
Seatbelts:
Bolstered Bucket Seats with Front Seat Sliders and Rear Height Adjustable Seat Belts
Tires / Wheels
Front Tires: 29 x 9-14; Maxxis Bighorn
Rear Tires: 29 x 11-14; Maxxis Bighorn
Ready for a ride in the Terraizer?
Contact us when you're ready to drive the extreme in Polaris RZR aftermarket performance!
Drive Terraizer